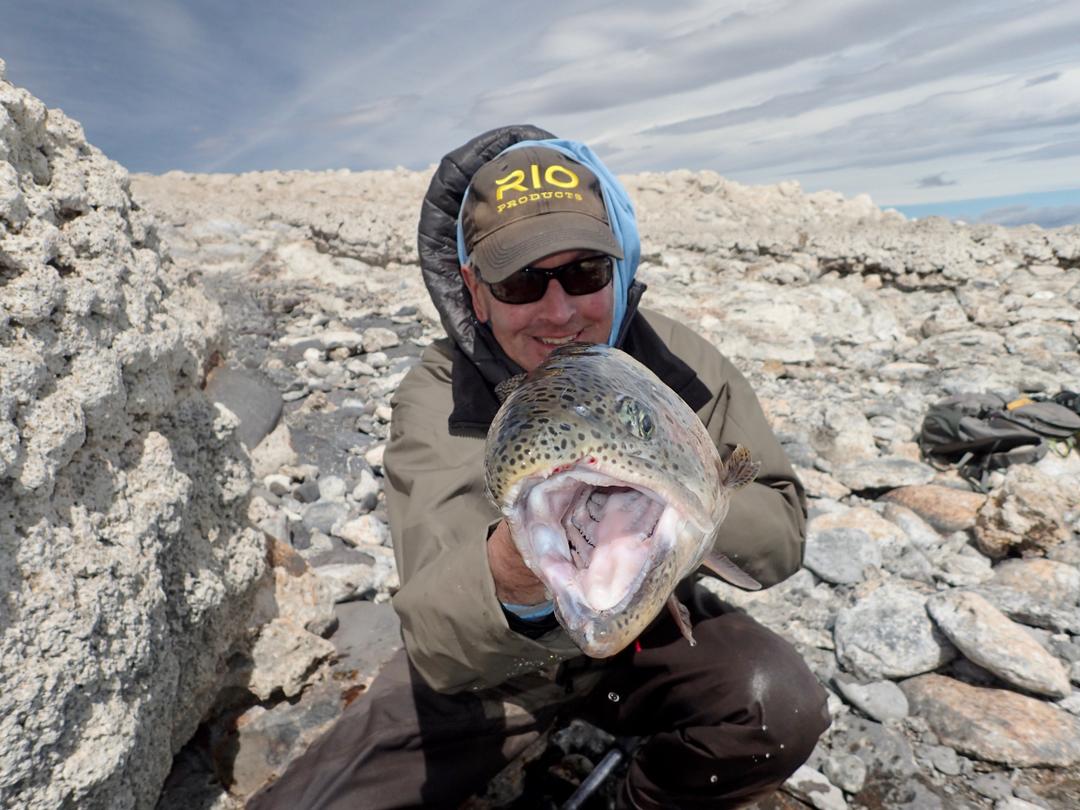 Ken Woodward
LIVES IN:  Kelowna/Tunkwa Lake, BC
FISHES: lakes, rivers, saltwater
TARGETED SPECIES: mostly salmonids, but I'll fish for anything that'll take a fly!
I took a flytying course in North Vancouver when I was 13 years old, but family circumstances prevented me from getting into flyfishing in a meaningful way back then. I rediscovered it when my wife, Wendy, and I moved to Lillooet in 1987 where I was a professional biologist operating the Seton River pink salmon spawning channels. Living right on the river and looking for something to do after work led me to spin fishing, but I didn't find it very interesting. A colleague at head office suggested I try flyfishing, and happily he had a friend who'd recently opened a tackle shop in Port Coquitlam, so he put together a basic flyfishing outfit for me and sent it up on the bus. Thankfully, I usually had the river to myself because at first I spent a lot of time unhooking myself, snapping flies off on the rocks and trees behind me, and casting like I was trying to ward off a swarm of bees with a broomstick. But I learned, caught fish, and I shortly became a very avid fly fisher. I was soon tying flies, building rods, and venturing further afield to fish lakes and other rivers and chase steelhead. To paraphrase Roderick Haig-Brown, I liked flyfishing because it made me think and feel, and it still does. I also love learning, and there is always something to learn with flyfishing!
In 1992 I changed careers and became a middle school teacher in Kelowna. Wanting to share my passion with my students, I started a flytying club at my school and, eventually, a co-curricular flyfishing program. A big part of my program's success was due to the support we received from the flyfishing community; most of our equipment and supplies were donated! I also taught flytying at our local fly shop, led casting workshops in the Okanagan and, as RGB Sales (Sage, RIO, Redington) pro-staff, promoted and demonstrated flyfishing equipment at events in BC. I think I enjoy teaching flyfishing and fly casting almost as much as flyfishing itself!
In 2000 Wendy and I parked our travel trailer at Tunkwa Lake Resort where we've been spending summers ever since. Wendy and I retired in 2018 and we bought a cabin on Tunkwa so now we spend at least the whole open water season at our home lake.
In 2015 I was invited to join a team for the BC Provincial Loch-Style Championships and, to my surprise, I discovered that I really liked competitive flyfishing, even though I was terrible at it at first. The competitive angler community was (and is) very friendly, welcoming and supportive, and I've enjoyed competing in river and lake competitions ever since.
I'm very pleased to be a member of the Togens team!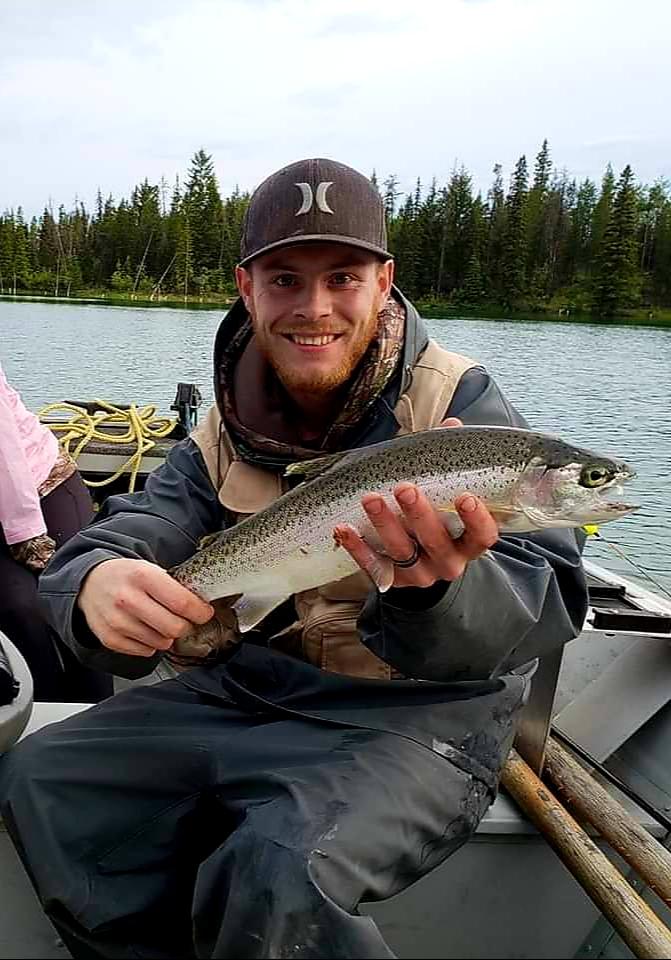 Tyler Ekdahl
LIVES IN: Maple Ridge B.C
FISHES: Rivers , Lakes
TARGETED SPECIES: Rainbow Trout, Cutthroat Trout, Crappie, Bass , Salmon
I grew up in a small town in British Columbia called 100 Mile House that has some amazing trout fishing and some beautiful lakes . I have been fishing for as long as I can remember. I am now 30years old and love it more and more every-time I am out on the water. I took up fly fishing when I was 19 when a friend took me out on my first fly fishing adventure, I can still remember hooking that first fish and really feeling how the fish reacted to the bite, not only that but the sensitivity and control I had was unbelievable and from that moment on I was HOOKED!!
Now I find myself fully committed to my fishing whether I'm out fishing, studying bodies of water, researching bugs or tying flies I spent most of my days fishing. I also love tying flies. Chironomids, leaches ,minnows, boatman, scuds, nypmhs, boobies ,blobs, drys.. you name it and I tie it .]
I spend a lot of time examining insects and trying my best to replicate the colors and movements in these bugs that I am seeing the fish feed on . I recently took on competition fly fishing and have been learning a lot from it . I am looking forward to many more years of competing, fishing , and tying !!!
Where to find Tyler 
INSTAGRAM: @tylerekdahl
FACEBOOK: Tyler Ekdahl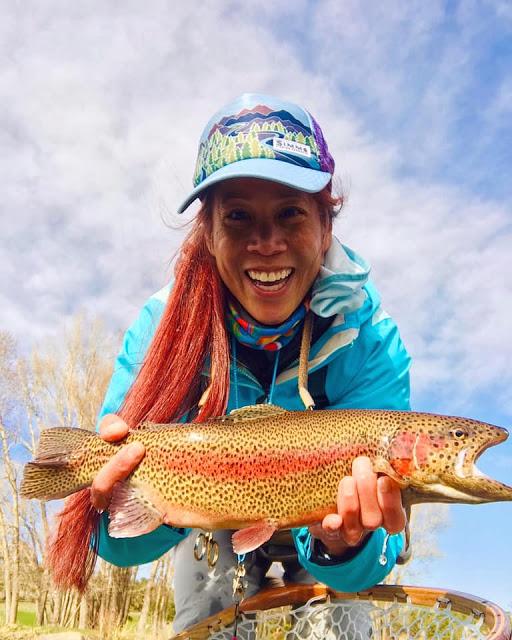 Cat Toy
LIVES IN:  Arvada, Colorado
FISHES:  Rivers, creeks, alpine lakes
TARGETED SPECIES:  Rainbow trout, Cutthroat Trout, Brook Trout, Brown Trout, Cutbow Trout
The river resonates trickles, bubbles, and ripples with the existence of what a river is.  Fly fishing for me has become the art of casting, fly tying, and the passion to stalk trout in many picturesque rivers, creeks, streams, and alpine lakes.  Fly fishing has so many intricate details and facets from the spontaneous hatches, to the most technical presentations required to the ever changing drifts of a trout stream.  
There is such enjoyment from fly tying of the absolute bliss of catching beautiful trout on my own flies.  I believe fly tying gives me the artistic touch in creating the tiniest forms of art for the prize, the trout.  I spend many evenings tying, replenishing my fly boxes, and preparatory for the next trip to the river.  When your neighbourly angler kindly asks you what the fish are taking, it is kind of a secret.  It's not available in stores.  It is a wealth of trout lore at your finger tips.
Where to find Cat!
Website:  flyfishingwithcattoy.blogspot.com
Instagram: @cattoyflyfishing 
Facebook:  Cat Toy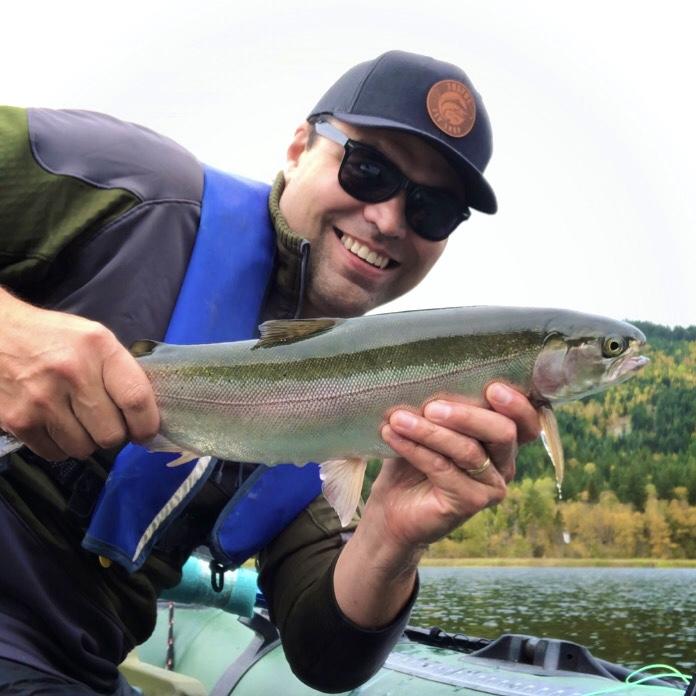 Stanton Jack
LIVES IN: Vancouver, BC
FISHES: Stillwater, River, and Estuary
TARGETED SPECIES: Trout & Salmon
I was born and raised in Kamloops B.C. where I grew up spending most of my time playing guitar or fly fishing a remote lake or river in the area. In my mid-teens I got into fly tying with friends from high school and started putting together patterns I hoped would match the hatches I saw happening in the local waters. Since then the art of fly tying and fly fishing has become a passion and at times an obsession! In 2017, I began competitive fly fishing which has been an incredible learning experience. The flies, equipment, and techniques used have given me a wealth of knowledge and definitely helped put more fish in the net. From this I've been able to win top medals in both individual and team categories and have been awarded Most Improved Competitor River and Lakes combined for two consecutive years. Looking ahead my goal is to represent my country on team Canada and bring home a gold medal in the awesome sport of fly fishing.
Where to find Stanton!
Instagram: @vanflyfishing 
YouTube: Vancouver Fly Fishing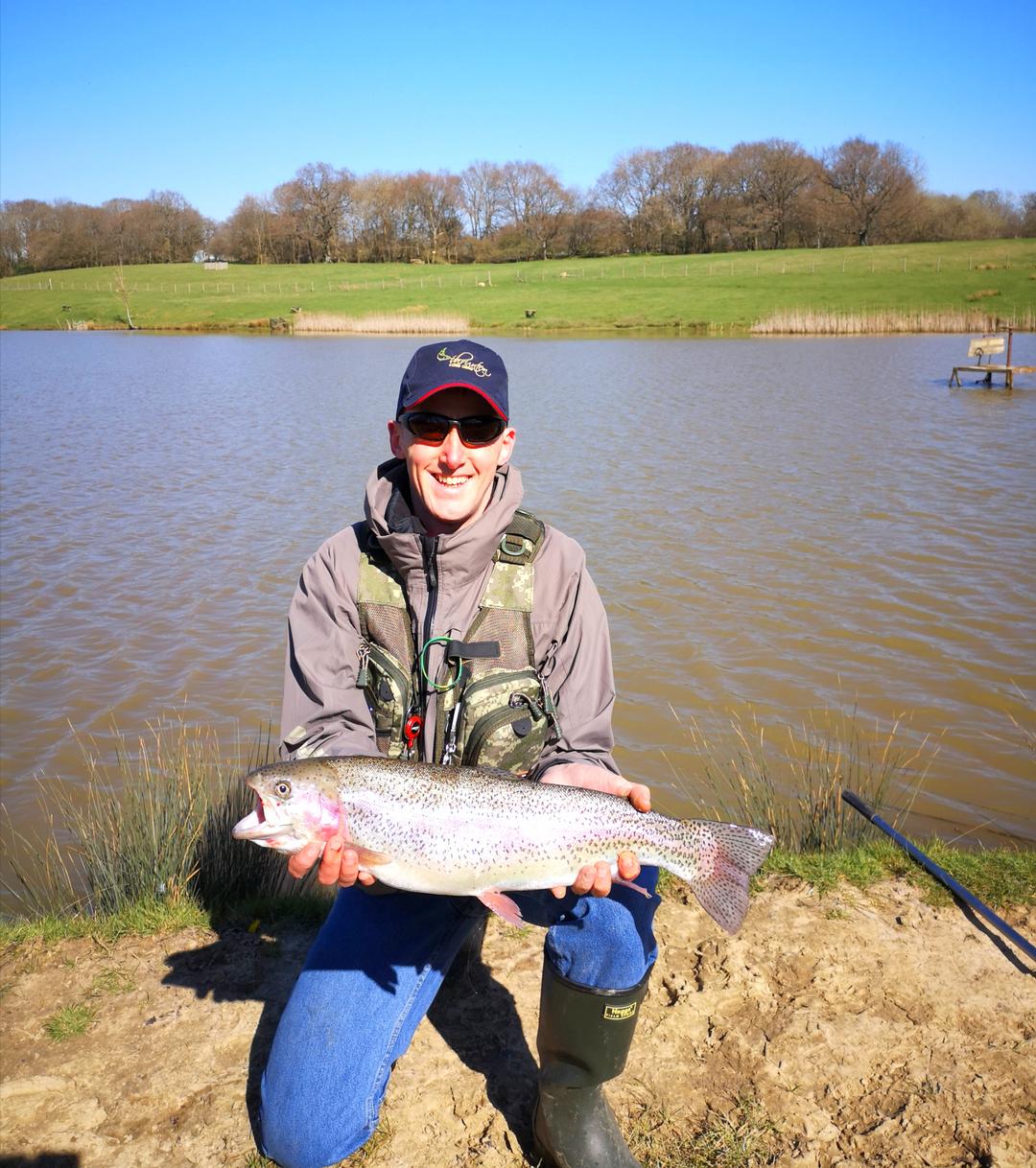 Phil Middleton

LIVES IN:  Hertfordshire, United Kingdom 
FISHES: Rivers, reservoirs, stillwater
TARGETED SPECIES: mostly trout!
I started fishing for coarse fish at the tender age of 9, taught by my Grandfather who was a fly fisherman. He took me to local tackle shops and instilled a love for the sport and its traditions. Even now, every time I go into a proper tackle shop it takes me back to those trips with my Grandfather. 
I have always been the type of person who learns by doing, so I looked up my local branch of the Fly Dressers Guild and went along. At my first session I was taught to tie the Montana Nymph and have never looked back!
As my tying progressed, I became Secretary of the Branch, which I continue as to this day, and I am now an instructor, teaching both the beginners' class and the advanced class on a regular basis. 
I have been lucky enough to be invited to tie on Fly Tyers Row at the London Fly Fishing Fair in 2018 and 2019 and have also demonstrated fly tying on Veniard's stand at The Game Fair in 2017 and 2019. 
I also enjoy giving back to the sport as much as a young family and work will allow. My nine-year-old son, Benjamin, has ADHD and joining me in my hobby has helped him immensely and given him a hobby to focus on. He is now passionate about fly fishing and next year will be in the junior Troutmasters national final for the second time. On top of teaching fly tying to adults and youngsters I have helped several youngsters get into fly fishing and have provided files to The Mayfly Project UK (an organization which uses fly fishing and tying to mentor children in foster care). 
I am definitely a better angler because of my fly tying; it has helped my understand entomology and the lifecycle of the insects that trout in the UK eat. 
Where to find Phil!
Instagram: @thephilmid
Randy Brockman

LIVES IN:  Atascadero, California
FISHES: Rivers, Lakes
TARGETED SPECIES: anything that bites!
Fishing has always been part of my life; maybe the best part. 
I began fishing at a young age for trout and salmon in northern California. A friend introduced me to fly fishing after college and I was hooked.
Fishing offers me a way to detach from the stresses of daily life, and reconnect with what to me matters most, the beauty of nature. Through fishing I feel we're able to strip away for a moment what is truly unimportant, and hopefully remind ourselves of how simple it is to be happy.
Fly fishing became my passion when I began to realize how many separate challenges there are in catching a single fish. A true understanding of the water and insect life is essential on top of the physical aspects of the sport. 
I later began fly tying, which opened an entirely new dimension to fishing for me and is what I believe to be the perfect way to daydream about the endless possibilities that one little fly might bring.
My goal is to continue to learn and share my passion for the sport in hope that it makes another fisherman's next trip a little better.
Where to find Randy
Instagram: @apex_fly_design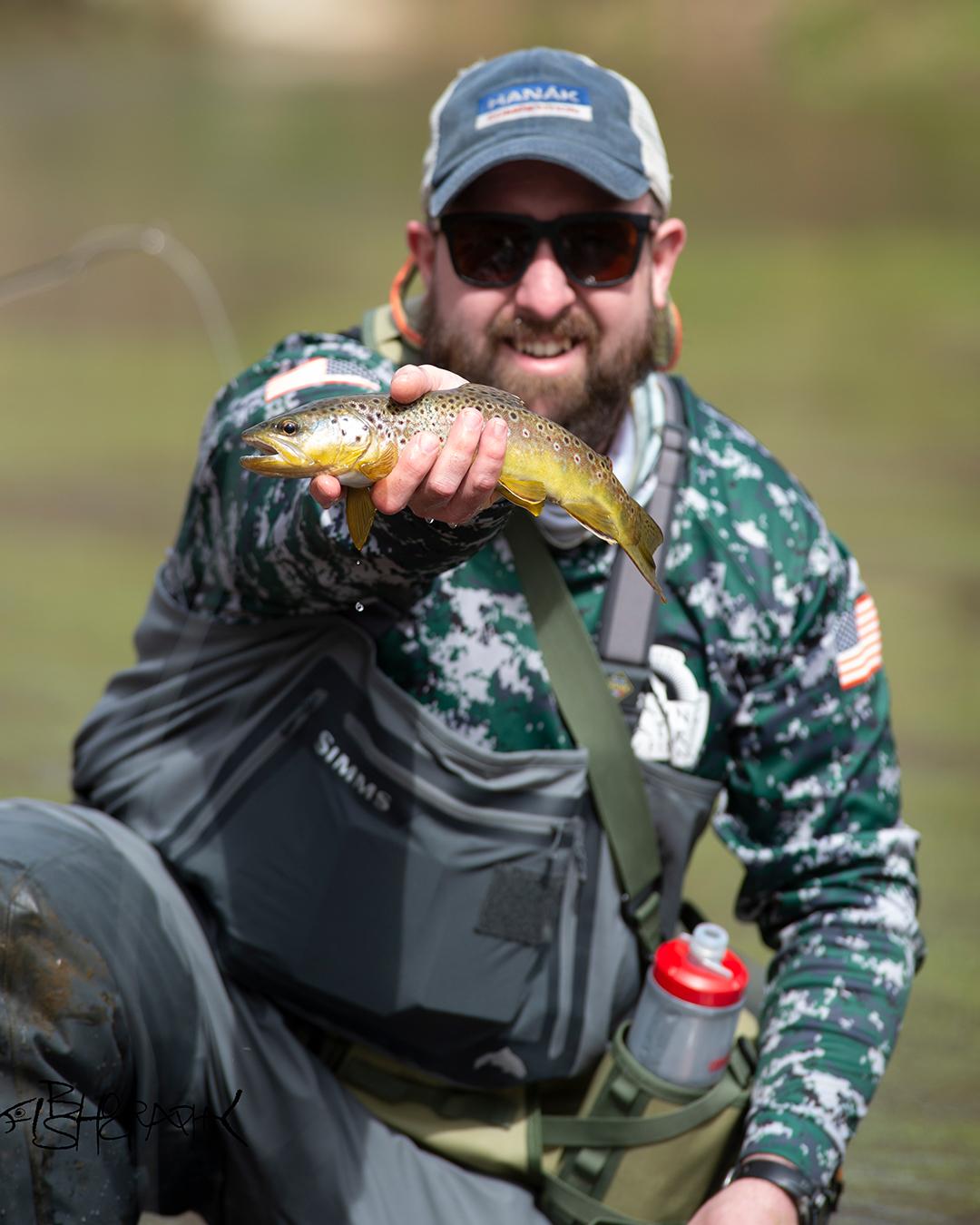 Raymond Collette

LIVES IN:  New Market, Maryland
FISHES: Rivers
TARGETED SPECIES: mostly trout!
Raymond Collette is from New Hampshire but now resides in Maryland. Raised in a state with some amazing trout streams on the east coast, Raymond recently got into fly fishing and fly tying in 2017.

He has been flying tying for roughly 5 years. He prefers nymphing when flying fishing, but he prefers tying dry flies when it comes to fly tying. His favorite flies to tie are Stimulators, the Sexy Waltz and the Rainbow Warrior.
His passion for fly tying and teaching others about fly tying never stops growing.
Favorite quote: "Many men go fishing all of their lives without knowing that it is not fish they are after." by Henry David Thoreau
Where to find Raymond
Instagram: @theokayfisherman
YouTube: Theokayfisherman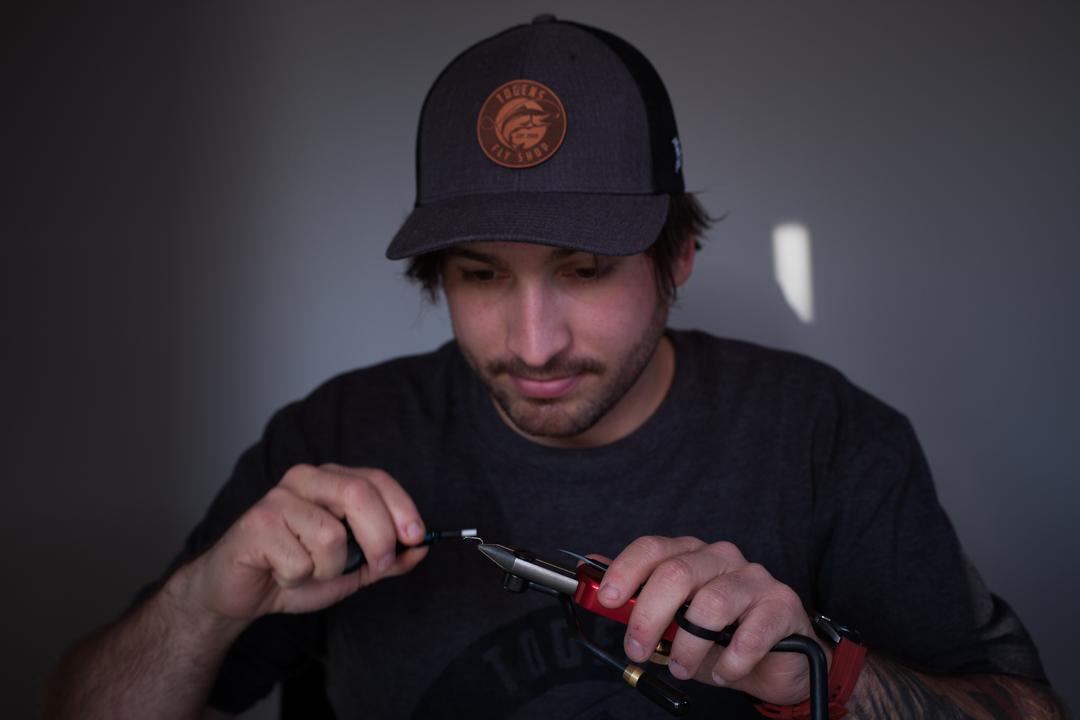 Rune L. Fremmerlid 
LIVES IN: Norway 
FISHES: Where ever there is Trout 
TARGETED SPECIES: Trout 
I have always been fishing in some kind of way since my grandfathers and father took me fishing for salmon and trout in local rivers and lakes. But for maybe 6-7 years ago I really got into fly fishing, and the addiction has just become bigger and bigger. Especially after I started with fly tying. I wanted to learn more about tying my own flies, to get some knowledge about the insect's life cycle and how to tie the different kinds, and also to know how to fish the flies I tied on the tippet. And after I started with fly tying the winter months has become more relaxing. If I'm not out fishing I'm probably at the vice. 
PS: We have big grayling in Norway nobody is fishing for.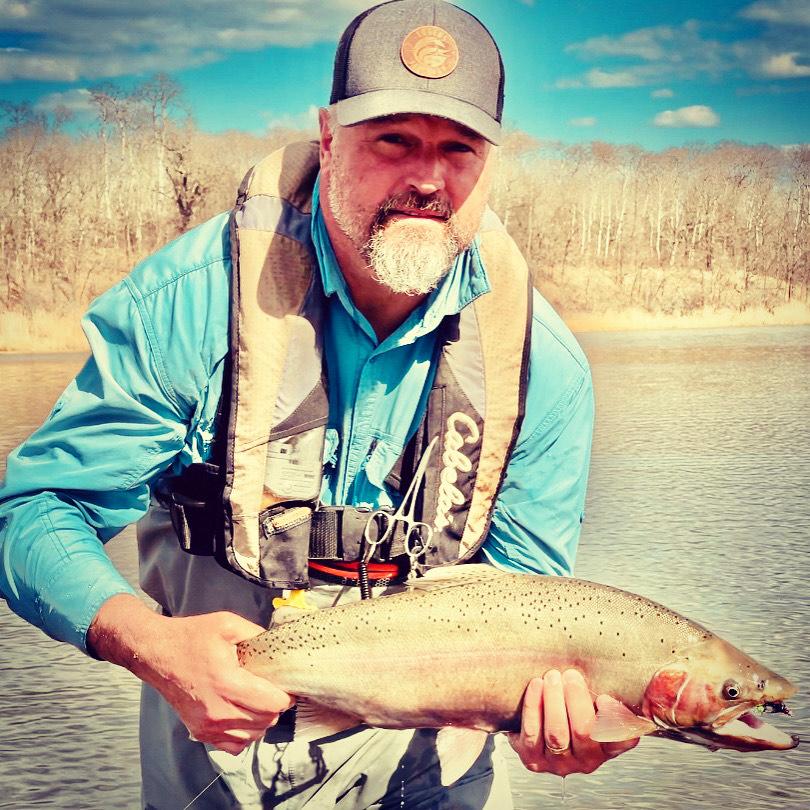 Chuck Loftis 
LIVES IN: Bismarck, ND USA
FISHES: Still water, rivers, and backcountry streams
TARGETED SPECIES: Trout, pike, walleye, sunfish, and carp
I'm happiest at the vise creating new patterns and improving on the old standards. I feel my personal and spiritual best using them.

After cutting my fly angling teeth on the waters of Western and Central Oregon 40 years ago, I moved east. And since the late 1980s, I've been casting flies up and down the Rocky Mountains region and across The United States' and Canada's Great Plains.


Here on the prairie, I was introduced to fly angling for northern pike, walleye, and carp and I've gotten more serious about them over the years. But after getting my first float tube in 1995, 90% of my angling has been in still water environs pursuing trout. That remains my foremost passion.

Where to find Chuck.
Instagram: @chuckloftis   
Facebook: Chuck Loftis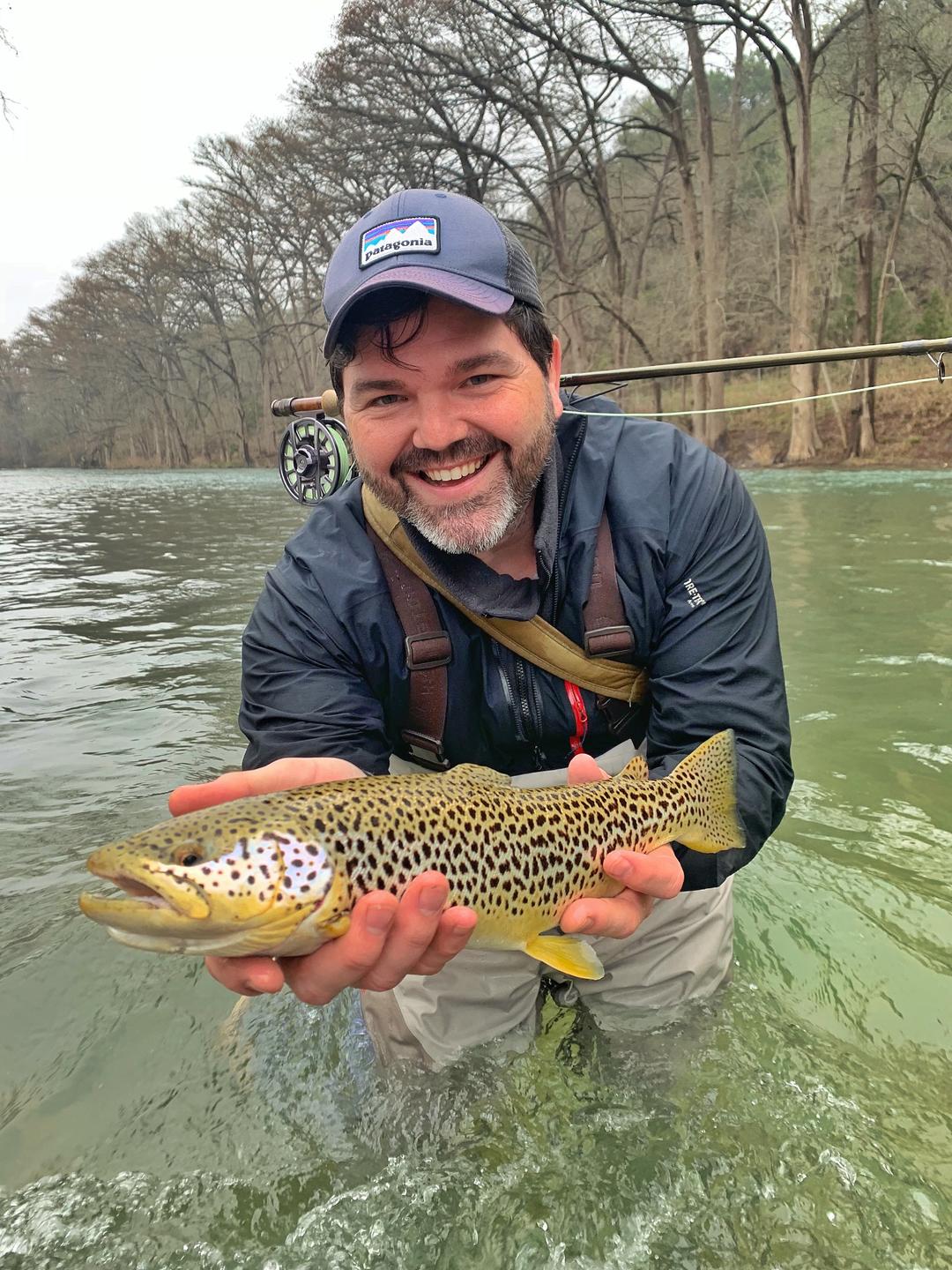 Drew Day
LIVES IN:  Navasota, Texas
FISHES: Lakes and Rivers
TARGETED SPECIES: BROWN TROUT, RAINBOW TROUT, BROOK TROUT, ANY TROUT
As a young boy, I remember visiting my grandfather and staring at the rack of fly rods on his garage wall. My family only visited once or twice a year, but every trip was highlighted by that glorious shrine of fish catching bamboo sticks that I was so puzzled and captivated by. That was my first real exposure to the allure of fly fishing. 


Several years ago my love for fly fishing evolved into a lifelong passion. My wife gifted me with a fly tying kit and I learned to craft very average Woolly Buggers, Hares Ears Nymphs, and Zebra Midges. Catching trout with flies that I tied myself was a revelation; it elevated the experience of fooling a fish into something totally new.

I enjoy euro-nymphing and my fly tying style is reflective of that; lots of tungsten and slim profiles that cut through the water. My flies often start with natural colors/materials, but I like to add one flashy feature that helps the fish key in on my bugs which are generally impressionistic.
Where to find Drew!
Instagram: @_day_fly_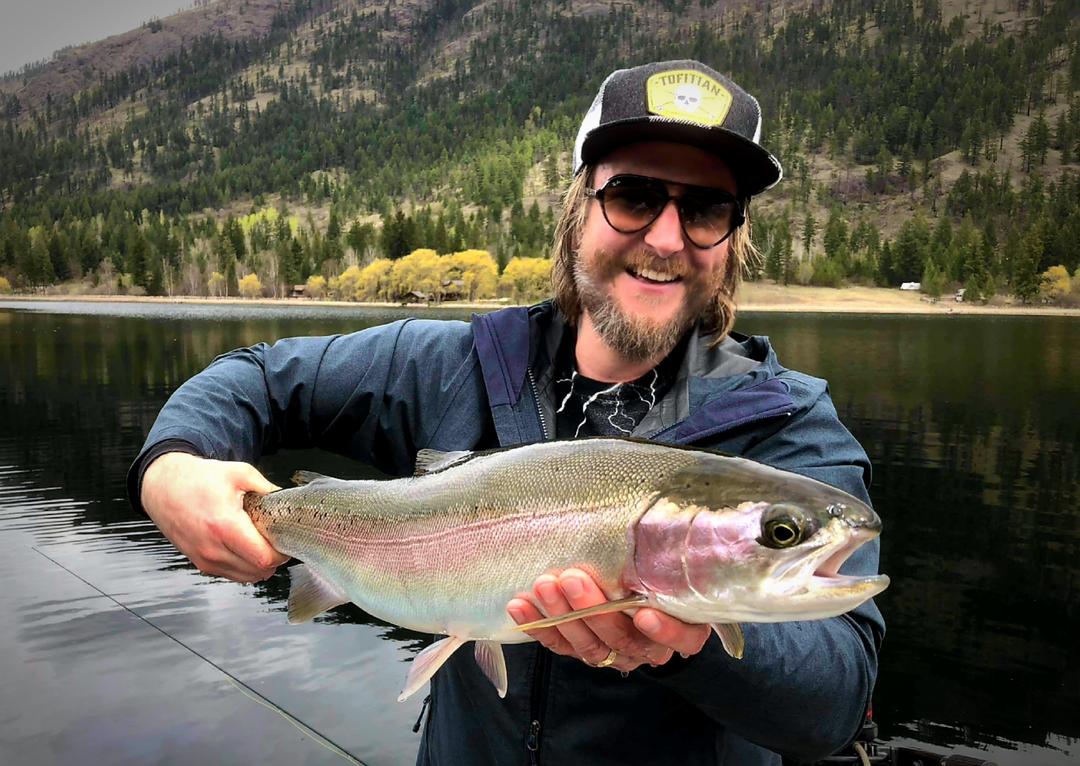 Brandon Molzahn
LIVES IN: Vernon, B.C.
FISHES: Stillwaters, Rivers, Streams, Creeks, Mud Puddles, The Neighbor's Pool...
TARGETED SPECIES: Rainbow Trout, Brook Trout, Salmon, and Kokanee.
Growing up in the beautiful Okanagan Valley, I have been immersed in all things outdoors since a very early age. Both my parents love to fish and have always instilled in me a reverent respect for the invaluable resources that surround us. Whether it was bicycle rides with my brother to the local creek with a fly rod slung over my shoulder, or day trips and weekends on a mountain lake spent beating the water to a froth with my casting; the allure of fly fishing has been all consuming and unquenchable my entire life. 
In recent years this passion has progressed into fly tying, diving head first into insect life cycles and creating patterns that not only catch fisherman's eyes but produce results. What is so captivating is how each body of water presents a unique puzzle to navigate and that puzzle can change every day of the year. Combine that with the pure elation of feeling a fish at the end of your fly line, fooled by a fly of your own creation...the tug truly is the drug!
Currently living in Vernon, British Columbia, fly tying is my therapy after long days working as a Retail Manager. I take every opportunity I can get to be out on the water soaking in the scenery and serenity with my wife, my daughter, and my dog Moose. I am absolutely thrilled to partner with an amazing company like Togens and join their knowledgeable Pro Team of fly tyers and experienced anglers. Don't hesitate to shoot me a message, give me a follow, or stop by and say hello if you see me on the water.
"It is not ours...it is just our turn"
Where to find Brandon.
Facebook: Brandon Molzahn

Instagram: @tyingismyvise
Youtube: Tying Is My Vise
TikTok: @tyingismyvise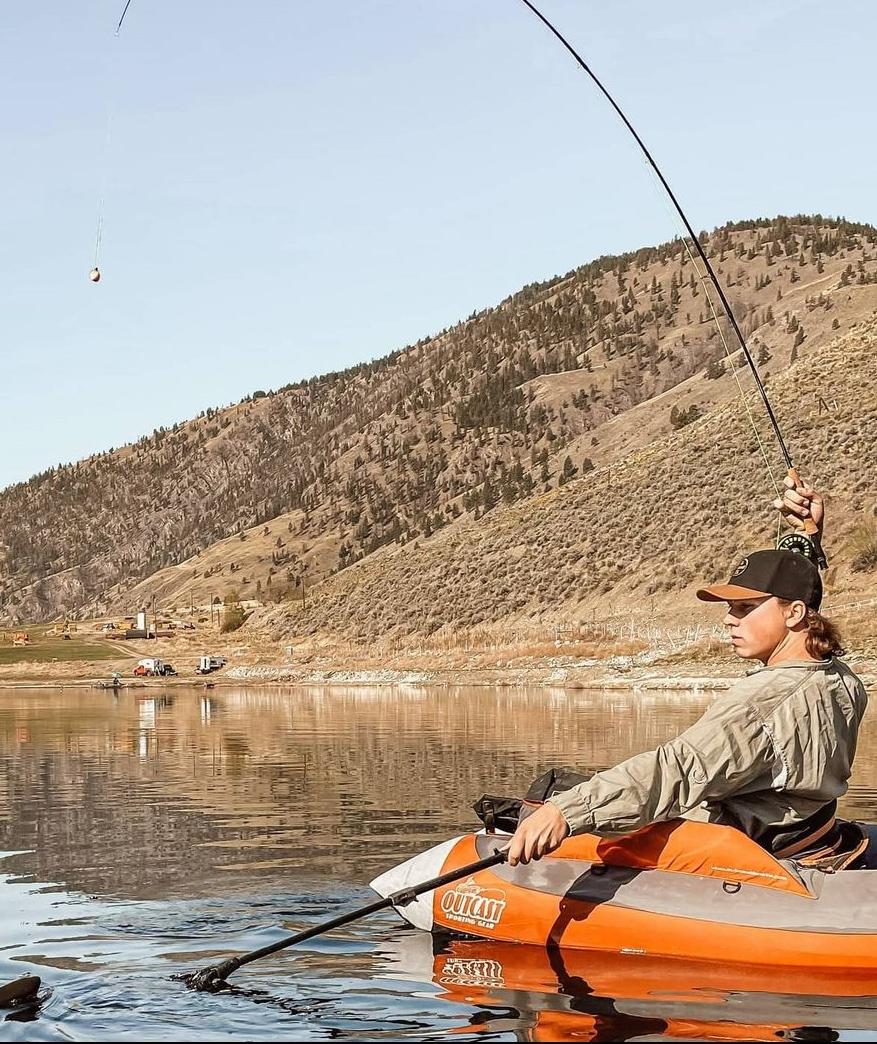 Zachary Tyson
LIVES IN: Kelowna, B.C.
FISHES: Stillwaters, Mountain Creeks.
TARGETED SPECIES: Rainbow Trout, Brook Trout
I was born and raised in Kelowna B.C. and grew up camping and fishing around the interior. Always had a rod in hand whether it was a bobber/worm setup or out in the boat trolling flies. My dad is to credit for the majority of my fly fishing knowledge and for getting me hooked into the sport at a young age.
2017 is when I bought my first belly boat setup and started fishing the many mountain lakes around the Okanagan. Started off with trolling but quickly converted into a full blown stillwater addict. It wasn't until late 2019 that I started tying flies. My roommate had been tying for some time, so one day I dusted off my dad's old tying equipment and haven't looked looked back since.
These days my favourite patterns to tie are chironomids and balanced leeches. Just about every weekend you will find me on the stillwaters searching for insect hatches and cooperative trout.
Where to find Zachary
Instagram: @lunkslap_ flyfishing
Youtube: lunkslap_ flyfishing